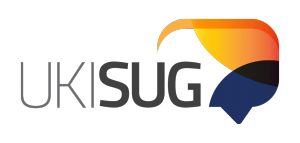 Client:
UK & Ireland SAP User Group
Date:
July 2016
Services:
Brand Strategy, Design & Print
back to portfolio
Background
Relevant, valuable and innovative. Those were the keywords that UK & Ireland SAP User Group (UKISUG) wanted to be represented in their new brand.
Following an internal marketing review, the group decided it was time to refresh their corporate branding. The previous logo had been in operation for over 20 years with just a few minor amends over that time.
Following a successful tender, MMD were appointed to design and implement the new branding across various channels. One of the key early tasks for the project was to meet staff, directors and members at one of the regular events that UKISUG host. This was a great opportunity to learn more about the business and get an insight, particularly from members, to how the brand is perceived. We used short surveys, delivered in a casual one-to-one setting to pull in vital information which we would then feed in to our design team.
From the feedback, it was fairly universal that the previous brand needed to be refreshed. We also asked participants what they looked for in a brand, what they like and what stands out. This varies from industry to industry so it was important to consider this as the members are a key target audience for UKISUG.
The new brand was launched at the UKISUG Annual Conference at The ICC, Birmingham in November 2017.